Tail lights are one of the most important car parts for your safety, without any doubt. They can be considered safety signs for you. You may face a risk with a pair of burnt tail lights. These lights are so important for you and your car just because others drivers can see your car by these lights. They can get an idea about the vehicle's shape and size. So, in case if you have a pair of burnt tail lights, you should consider replacing them instantly. now, if you drive a Kia Optima, then you should take care of your car's safety. But how can you do a 2015 Kia Optima tail the light bulb replacement?
In this blog, we are going to discuss the process of the tail light bulb replacement of the Kia Optima.
Process For 2015 Kia Optima Tail Light Bulb Replacement
If the tail lights of your 2015 Kia Optima are burnt out, you should replace them instantly. To do this task, you should end up going to a professional mechanic. Or if you want to save some bucks, then you can do it all by yourself. But if you have a proper guidebook about how to do it, then it can be done more neatly and easily. You can do a 2015 Kia Optima tail light bulb replacement by following these steps:
Turn off your car and find a flat surface to park the car.
Open the hood of your car.
You have to locate the battery and then remove the negative terminal cable by rotating the cable clamp nut counter clockwise.
You can use a socket wrench until the clamp gets loose to slide it off.
Open your Kia's trunk and pull your carpet under the tail light assembly.
Remove all of the three nuts that are holding the tail light assembly in the proper place.
Rotate the bulb assembly counter clockwise and pull the bulb straight out.
Install the new bulb on your car and tighten all the important nuts.
Lastly, reconnect the cable to the negative battery terminal.
If your Kia brake lights are not working or if the brake lights won't turn off, then you should pay attention to your tail light assembly and possibly get a new one. And by following these steps, you can easily do Kia tail light replacement.
You can save money by choosing used tail light assembly. There are many reliable sources to buy used car parts and Cars part shop is one of them. Check their huge stock, NOW!
Importance Of 2015 Kia Optima Tail Lights
Kia optima use Sylvania mini bulb 4057 LL as its tail lights. These lights are naturally bright and give the vehicle a full look at night. But there are a couple of goals to achieve for Optima's tail lights.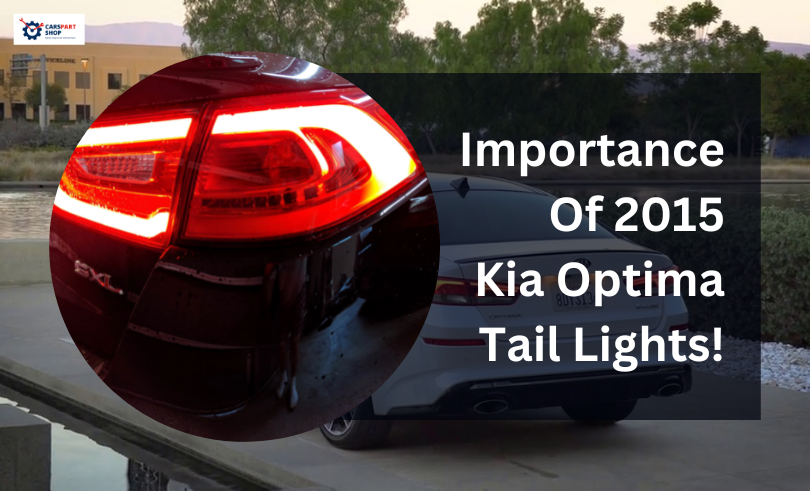 Most of the time, tail lights are the only visible thing amid a deep black road. So, these lights give other drivers an idea about your vehicle's existence and shape properly.
Tail lights are a sign that you are slowing down. Whenever you push your brake paddle, your brake lights turn on, which is a part of your tail light assembly. So, it makes other drivers understand that you are slowing down.
2015 Kia Optima tail light assembly also includes the indicators. And it is one of the most vital safety signs for your car. Whenever you are about to take a turn, you must turn on the indicators so that drivers behind you can understand that you are going to turn in another direction. That's why it plays a significant role from the safety aspect.
So, these are some most important roles that tail lights play for a Kia Optima. That's why when you have a faulty pair of tail lights; you should do a 2015 Kia Optima tail light bulb replacement.
From Where Can You Get a New Pair of Tail Lights for the Kia Optima?
If you are looking for a new pair of tail lights that will be equipped perfectly with your Kia Optima, then you have a couple of sources for this auto part.
First, you can go to local mechanic shops or auto part shops. As it is not a rare part, there is a huge possibility of getting it from there.
You can look for the part from any existing user of the same model or brand. If you get a healthy one, then you can buy it.
Last but not least, you can look for it on any trusted online website like Cars Part Shop. It is an online website that sells used car parts that are in good condition.
Cost Of a New Pair of Tail Lights for Ford F150
The cost of a new pair of tail lights varies with many factors like year or model. And above all, it varies with the manufacturer company. But overall, it costs something around $50-$20.
A 2015 Kia Optima tail light bulb assembly contains a pair of brake light bulbs and indicators.
Frequently Asked Questions
How much does it cost to fix a tail light on a Kia?
Tail lights cost you around $50-$100. Well, it depends on different factors like brand, model, year, or manufacturer.
From where can you get a new pair of tail lights for the Kia Optima?
If you want a new pair of the tail light, you have multiple sources. First, you can check local auto part shops. You can check for a good-condition tail light from other users of the same model also. Or you can have them from any trusted online website.
Can I replace my tail lights myself?
Replacing a pair of tail lights is not such a big task. If you have a little bit of knowledge about auto-repair works, then you can easily do it. But if you are just a beginner, then it would be hectic for you.
Should I replace both tail light bulbs at the same time?
Tail lights are advised to change in a pair because both of them are of the same age and condition. So, if any of them has got damaged, then there is a high possibility for the second one also. That's why you should replace both tail light bulbs at the same time.
Author Details
Latest Posts
I am Sophie Harris, a car fanatic, and reviewing cars is my life. I review them, give advice on buying, and tell you all the latest news from the automotive industry.