Fog lights are as important as headlights in extreme weather conditions. If you can't see 100-150 feet in front of you, then experts suggest users turn on their front or rear fog lights. But when it comes to fog lamps, state laws should be met. California authority gives people some driving rules that every driver should follow. California fog light laws tell us that if a driver cannot see or recognize a person 200 feet in front of them on a curvy hill, rain, fog, or other situations, then they can turn on the fog lights while the lower beams should assist them in the driver's visibility.
In this blog, we are going to discuss the fog light rules and regulations that every driver should follow.
Requirements For Positioning the Fog Lights: From a Legal Perspective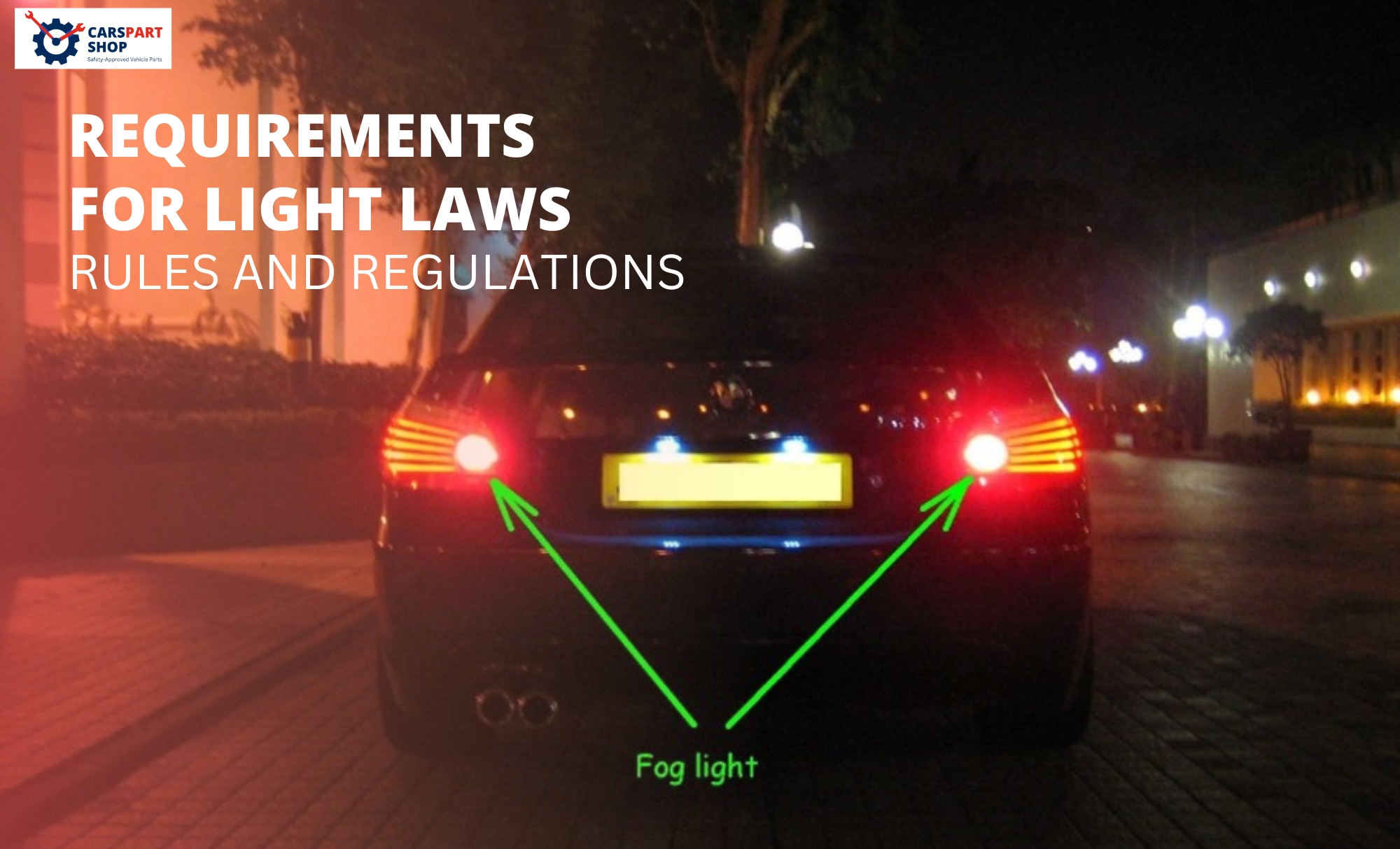 California driving laws has a lot of section to describe every small detail about driving guidelines. And obviously, these are details about fog light requirements in California.
According to section 26103, whenever a driver is installing fog lights, they need to confirm that the lens should be over their fog lamp bulbs.
According to California Vehicle code 24403, drivers cannot install more than two fog lights on their vehicles.
Just to provide a safe and well-lit drive, a user should mount their fog lights between 12 inches to 30 inches from the ground.
California vehicle code describes the drivers that their fog light or tail lamps should meet these requirements.
Whenever a driver is installing a pair of new fog lights, they have to make sure that both of the fog lights are not on the same side. The fog lights should be on the same eye-sight level and as close to the sides as possible.
If there is only one rear fog light, then it should be pruned to the left side or in the middle of the vehicle.
The suitable mounting height can differ from vehicle to vehicle. As a note, it can be between 12 inches to 60 inches. California fog light laws tell us this.
The fog lights should contain proper wiring. They should have a switch of their own so that drivers can turn them off or on as per their choice.
The distance between the edge of the fog lamps and any stop lamps should be at least four inches.
These are some basic rules that any fog light should maintain. as a mote, a faulty pair of fog lights can make you suffer. you might consider replacing them. a user has many sources like aftermarket or local shops. but the user should to do a little bit of research for the best fog light replacement cost.
Which Color Fog Lights Are Legal in California?
There are a lot of queries about the color requirements of fog lights in California. Like "are blue headlights legal in California? "Are yellow fog lights legal in California?". But when it comes to the color, the requirements are easy and proper.
The color of front fog lamps should be either yellow or white in color. It also can emit a color like amber, as it is the reddish version of yellow.
It is not only about the fog lights; every light that is in front of the vehicle should be between this color spectrum only.
While driving a vehicle, the fog light should emit white color on a public road. (Assuming they are in the vehicle).
Now, if we come to rare fog lights, they can emit only red color.
The inner lens of the fog lights must emit one of the accepted colors.
Now, if we talk about passenger vehicles, there are some prohibited lighting conditions:
Vehicles should not use flashing lights.
Flashing amber warning lights can only be used by emergency-authorized vehicles.
A constant or flashing white light can be used by law enforcement vehicles or police vehicles.
Only authorized vehicles can use flashing red lights in extreme hazards.
Apart from these rules, according to California vehicle code 24405, there should be 4 lights that can get turned on simultaneously. It includes all the headlights, fog lights, passing lamps, and spotlights.
Also, every light should have separate wiring to operate independently.
Some Other Facts About Fog Lights in California
Many of us want to know whether we can use the fog light at night or not. According to California fog light laws, drivers can use fog lights at night, but they must use composite beams of light that can make the drive well-lit and safe. The light should make people visible.
Although the California drivers handbook authority suggests using high beams in clear streets or open country.
Frequently Asked Questions
Are fog lights illegal in California?
Under CVC section 22403, it is clearly mentioned that any vehicle can use fog lights but not as a substitute for headlamps. They should be mounted between 12 inches to 60 inches from the ground level. This height can differ with vehicles.
Are blue fog lights illegal in California?
According to driving laws of California, rear tail-lamps should use only red color while the front ones should use white or yellow. Any passenger or personnel should emit red or blue color from their fog lights as it gets used only in legal vehicles.
Are amber fog lights street-legal?
Yes, a vehicle can use fog lamps that are amber in color. But specifically, the authority suggests that drivers use white or yellow fog lights as the front pair. Rear fog lights can use red in color.
How many lumens are fog lights legal in California?
Any of the fog lights should not cross a number of 2513 Lumens. It is the highest lumens that are legal in California.
Author Details
Latest Posts
Hello there, I'm Erin Harrison, a writer and auto enthusiast. When you need guidance on vehicle repairs, I want to be your go-to guy.